One year after devastating storm, UN says Philippines 'on road to recovery'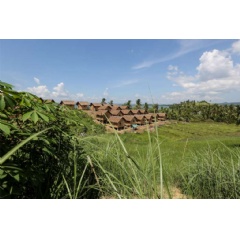 On Leyte Island in the Philippines, wooden transitional shelters are under construction to house the displaced caused by Super Typhoon Haiyan whick struck on 8 November 2013. Photo: UNHCR/P. Behan
One year after super Typhoon Haiyan swept across the central Philippines, destroying large swaths of the archipelago, the United Nations has declared the country to be "well on the road to recovery" as efforts to rebuild the livelihoods of local communities – particularly farmers and fishers – begin to yield results.
"Farmers are the backbone of this recovery and the key to build community resilience to future disasters," UN Food and Agriculture Organization (FAO) Director General José Graziano da Silva declared in a press release on the eve of the one-year anniversary.
"Their work now will ensure that when the next typhoon hits, the impacts are smaller and they are able to recover quicker," he added.
Haiyan is the biggest typhoon recorded in almost a century, and according to the Office for the Coordination of Humanitarian Affairs (OCHA), as it slammed into the Philippines in the early hours of 8 November 2013, it killed thousands and affected nearly 9.8 million people, displaced some 4 million people and destroyed 500,000 homes.
The storm also devastated the country's infrastructure, hospitals, schools and public services, causing $12 billion in estimated damages while also laying waste to the agricultural sector.
One-point-one million tonnes of crops suffered severe damage within hours of the super storm's landfall. Coconut farmers, for instance, lost some 44 million trees to the storm dealing a debilitating blow to their livelihoods; coconut trees take six to eight years to become productive again. At the same time, nearly two-third of fishing communities lost their productive assets.
As a result, over the past year FAO has been working closely with the Government in severely affected areas through some 22 projects in MIMAROPA, Western, Central and Eastern Visayas regions as part of a wider effort "to build people's ability to be self-reliant from day one," noted José Luis Fernandez, FAO Representative to the Philippines.
"Farmers have been key responders in this emergency," he continued. "We helped them source seed to plant in time. They, in turn, filled local markets with rice four months later. Without their perseverance, food aid and other forms of humanitarian assistance would have been required much longer and for many more people."
Leveraging nearly $40 million in support from the international community, FAO and local authorities have funnelled assistance to 150,000 farming and fishing families – some 750,000 people – in four critical areas of intervention: rice and corn farming, fisheries and coastal communities, coconut-based farming systems and coastal/mangrove forest rehabilitation.
"With one-third of the country relying on the agriculture sector for their livelihood, it is crucial to get people back on their feet as quickly as possible and assist them in rebuilding their lives," Mr. Fernandez added.
In a briefing today from Geneva, the UN's humanitarian agencies also underscored the gains made since Haiyan struck the Philippines, killing at 6,300 people. They also observed, however, that much work remained to be done in assisting those still afflicted by displacement and lost employment opportunities.
Speaking by phone from the Philippines, Dr. Julie Hall of the UN World Health Organization (WHO), explained that, from a health perspective, the past year had been "a very challenging" one as the Asian country had lost 600 health facilities.
She said the international community's response had been "overwhelming" as aid poured in to the affected areas and around half of the damaged facilities had been repaired or were in the process of reparation. She noted, however, that levels of functionality between health centres varied, medicines were running out, and a recent uptick in mental health issues could be observed.
OCHA spokesperson, Jens Laerke, meanwhile remarked that the UN's humanitarian wing had served roughly 3.7 million people with food assistance, almost one million with rehabilitated water systems and established 4,900 temporary learning spaces for children. He added that OCHA had been "humbled by the extraordinary resilience of the Filipino people" who had pushed through the disaster and towards recovery "individually and collectively."
For its part, the UN refugee agency (UNHCR) said it was now focusing on the remaining 20,000 people still living in 56 displacement sites across typhoon-affected areas after the majority of the 4.1 million displaced persons had returned home to rebuild or been relocated.
As UNHCR worked to provide those still displaced with shelter, water and sanitation, spokesperson, Adrian Edwards, noted that the agency was also lobbying the Filipino Government to adopt legislation protecting the rights of internally displaced people – whether it be from natural disasters or the decades-long conflict still troubling the country's south.
"The passage of such legislation would be very timely as the country welcomes crucial steps in attaining sustainable peace in the southern Philippines," Mr. Edwards concluded.
A statement by the Resident and Humanitarian Coordinator in the Philippines on behalf of the Humanitarian Country Team and the UN Country to mark the anniversary remembered all those who lost their lives and "[acknowledged] the extraordinary resilience of the Filipino people."
Luiza Carvalho, Resident and Humanitarian Coordinator in the Philippines said "We are privileged to have been able to contribute to the humanitarian response led by the Government of the Philippines and will continue to support recovery efforts at all levels and in particular through the Office of the Presidential Assistant for Rehabilitation and Recovery and relevant line ministries."
( Press Release Image: https://photos.webwire.com/prmedia/7/192656/192656-1.jpg )
Related Links
WebWireID192656

This news content was configured by WebWire editorial staff. Linking is permitted.
News Release Distribution and Press Release Distribution Services Provided by WebWire.