Valuable material for wind power
Large wind turbines benefit from cable sheathing made of Levapren
Cologne, Germany –
WEBWIRE
–
Friday, September 5, 2014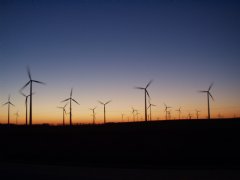 Large wind turbines benefit from cable sheathing made of Levapren. Photo: LANXESS AG
Germany's attempt to become independent of nuclear energy and fossil fuels is being followed closely by many countries around the world. Wind power is considered to be one of the most environmentally friendly sources of energy. Particularly when it comes to large wind turbines, engineers often choose Levapren from specialty chemicals company LANXESS, because this halogen-free ethylene-vinyl acetate synthetic rubber (EVM) helps to significantly reduce the risk of fire in the vicinity of the generators and to protect considerable investments in the event of fire.
"Levapren is used inside the nacelles of the wind turbines, specifically in the cable sheathing," explains Jörg Stumbaum, technical marketing manager at LANXESS, the Cologne-based pioneer of synthetic rubber. "Our EVM elastomer is ideal for this job for two reasons: The material is easy to process, and it contains no halogens. Furthermore, EVM elastomers can accommodate a high content of halogen-free flame retardants, such as aluminum hydroxide, and the polar rubber raw material does not swell in the presence of lubricating greases."
Strong electrical currents flow through large wind turbines at voltages of over 500 volt. Although the risk of fire is not greater in wind turbines than in any other well-maintained technical installations, if fire should break out – for instance because of an electrical short or lightning strike – it is much more difficult to extinguish, since the components that house the generators are very high up in the air. Therefore, fire must be prevented to the greatest possible extent. And if a fire does occur, the consequences must be minimized as much as possible. "That can be difficult in the case of halogen-based materials, such as PVC cable sheathing, because when these materials burn, they release hydrochloric acid that attacks the metal parts," Stumbaum explains. "Even stainless steel is not immune to its effects. When technical installations burn, the greatest damage usually is caused not by the heat of the flames, but by the corrosive effect of the combustion gases."
For sensitive applications of this kind, the industry markets different types of cables: HFFR (halogen-free flame retardant), FRNC (flame retardant non-corrosive) or LSFOH (low smoke fume zero halogen). "All of these abbreviations stand for the same approach: In the event of fire, prevent the formation of hydrochloric acid and other corrosive halogen compounds in the smoke," explains Stumbaum. "This characteristic often is achieved with the help of Levapren 500 or Levapren 700, ethylene-vinyl acetate copolymers that are themselves halogen-free." Levapren compounds tailored to these applications therefore cannot emit the corrosive hydrochloric acid gas normally released by halogen-based materials in a fire. And Levapren is not only halogen-free; the EVM grades with a comparatively high vinyl acetate (VA) content are very compatible with polar fillers thanks to their high polarity. Consequently, Levapren 500 and Levapren 700 can contain large quantities of inorganic, halogen-free flame retardants, such as aluminum or magnesium hydroxide.
Furthermore, cable sheathing fabricated with Levapren has additional highly desirable properties: Levapren is easy to process. The polar Levapren grades, Levapren 500 and Levapren 700, hardly swell at all in oil, which is important as well because absorbed oil could impair cable function in the event of fire and increase smoke density. "LANXESS is thus contributing to both the success of energy policy change in Germany and the expansion of safe wind power around the world," summarizes Stumbaum. "We at LANXESS are very proud of that, too. We are known for our active support of sustainable technologies, and Levapren plays an important part in our efforts here."
LANXESS is a leading specialty chemicals company with sales of EUR 8.3 billion in 2013 and about 16,900 employees in 31 countries. The company is currently represented at 52 production sites worldwide. The core business of LANXESS is the development, manufacturing and marketing of plastics, rubber, intermediates and specialty chemicals. LANXESS is a member of the leading sustainability indices Dow Jones Sustainability Index (DJSI World and DJSI Europe) and FTSE4Good as well as CDP's Climate Disclosure Leadership Index (CDLI).
( Press Release Image: https://photos.webwire.com/prmedia/7/190239/190239-1.jpg )
Related Links
WebWireID190239

This news content was configured by WebWire editorial staff. Linking is permitted.
News Release Distribution and Press Release Distribution Services Provided by WebWire.