Good Things Come in Threes: Vinitaly International Returns to China for the Dalian International Wine Festival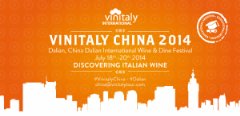 There is no question about Vinitaly International's plan to continue to strongly invest in what is now known as one of the most promising wine markets in the world: the country imported nearly 120 million litres of wine during the first 5 months of 2013 (+ 26% with respect to the same period in 2012) for a total value of 610 million US dollars (+14%). With a constant upward trend of per capita wine consumption (1,31 litres in 2012 with respect to 0,3 in 2003), China will most likely become the number one wine consumer in the world by 2015 (Source: VAFFANCINA.IT, 20 August 2013, http://tinyurl.com/ptxspmn).
The potential for Italian wine producers is huge and with its 7% share Italy already has a foot in the door. But the complexity of this market calls for strategic thinking and Vinitaly International seems to have found a way forward.
Back in the fall of 2013 the Ambassador of Italian Wine had already sent clear signs of its intentions by inaugurating a new office in Shanghai in order to better represent Italian wine producers and strengthen its presence on the Chinese market. Just a few weeks before, Stevie Kim, Managing Director of Vinitaly International, had also organized a round table with top Chinese importers and distributors in the historical center of Tianzifang recognizing the importance of a collaboration with the movers and shakers of Italian wine in China. "The optimal solution for a collaboration amongst local importers and wine producers is to synchronize the various activities with regards to Italian Wine promotion and education in China" Stevie Kim had said at the time emphasizing the strategic value of co-branding and co-marketing activities in view of Vinitaly China Chengdu, the new off-site showcase in program for March 2014. During the meeting a special focus was also put on the educational aspects of training potential buyers with the presentation of what would soon become Vinitaly International's new key project: the Vinitaly International Academy.
Nearly a year later the same top Italian wine importers are preparing now to travel for the third time in a row to a Vinitaly International event in Mainland China and present a series of Masterclasses aimed at helping Chinese consumers better understand the great diversity and excellence of Italian wine.
But why Dalian? With a population of nearly 7 million, the city is fast becoming the hub of Northern China excelling in its role as a port and an industrial, trading and financial centre. Dalian is also the home to the Haichang Group, that has acquired, in the past years, no less than 26 Chateaux in France. The huge oil-to-real estate tycoon also founded, together with the French Chamber of Commerce, the Dalian International Wine Festival, now at its third edition, with the aim of further promoting the city's already booming wine industry: Dalian has in fact become one of the top 10 wine consuming markets in China since 2009 with sales of some RMB 300 million of bottles each year (Source: HKTDC RESEARCH, 6 January 2012, http://tinyurl.com/kcnp4uw)
No wonder then that Vinitaly International has decided to go ahead in this new venture setting its bets once again on education: the format of Vinitaly China Dalian will be very similar to that of its last stop in Shanghai but with an even larger area of 120 sqm which will include an educational section and the Vinitaly Lounge. In the latter, attendees will have the opportunity each day to taste Italian coffee and soak up the atmosphere of a typical Italian "Aperitivo" thanks to the continuous support of two top producers of the Made in Italy Food and Beverage sector: Fabbri 1905 and MioEspresso.
Following the enthusiasm shown by attendees in Shanghai, the number of educational sessions has now risen to 12 including 9 Masterclasses organized in collaboration with the same top Chinese importers also present in Chengdu and Shanghai: SinoDrink, EMW, Venas Vinus, Chu Xiao, Insider, Amore Fine Wines, VM Fine Wines, Kelit and 100ITA.
The Vinitaly Area will also play host to three Executive Wine Seminars of the Vinitaly International Academy, presented by famous wine expert and VIA Scientific Director Ian D'Agata.
"The great thing about Vinitaly International is how it promotes Italian wine all over the world" explains Ian D'Agata "In this light, VIA is exceptionally important for it is the teaching arm of Vinitaly International, and aims to help wine lovers and wine professionals everywhere better understand the intricacies of Italian wine...beginning with the almost 600 grape varieties that call Italy their home! China is an especially important market, where people have always shown great interest and passion for Italian wines and we are pleased and honoured to help our Chinese friends better understand and appreciate great Italian wines."
Day one will open with "Brunello di Montalcino: Italy's most classic: ageworthy Sangiovese wines" (advanced level) followed on day two and three respectively by "A panorama of Italy's many great and diverse wines" part 1 and part 2.
About:
Veronafiere is the leading organizer of trade shows in Italy including Vinitaly (http://www.vinitaly.com), the largest wine event in the world. The 48th edition of Vinitaly counted some 155,000 visitors (+6%) in four days of event, of which 56.000 were international attendees representing 36% of the total. On 100.000 square meters, 4.000 exhibitors welcomed trade professionals, media and producers alike. The next instalment of the fair will take place on 22 – 25 March 2015. The premier event to Vinitaly, OperaWine (http://www.vinitalyinternational.com) "Finest Italian Wines: 100 Great Producers," will unite international wine professionals on March 21st 2015 in the heart of Verona, offering them the unique opportunity to discover and taste the 100 best Italian wines, as selected by Wine Spectator. In 1998 Veronafiere also created Vinitaly International to develop a global platform for the promotion of Italian wine producers in foreign markets such as Russia, China, USA and Hong Kong.
( Press Release Image: https://photos.webwire.com/prmedia/3/189056/189056-1.png )
Related Links
WebWireID189056

This news content was configured by WebWire editorial staff. Linking is permitted.
News Release Distribution and Press Release Distribution Services Provided by WebWire.