New Released Book Gives a 21-day Action Plan to Become an Effective Leader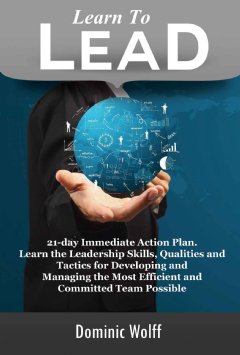 21-Day Immediate Action Plan, Learn the Leadership Skills, Qualities and Tactics for Developing and Managing the Most Efficient...
Author and business expert Dominic Wolff gives leaders need-to-know skills, qualities and tactics with his new book Learn to Lead. The book teaches how to develop and manage teams following a 21-day action plan.
Wolff, an author and entrepreneur says†that 21 days is the perfect time frame since itís just enough time for a team to get acquainted and establish a routine. There are 21 action plans that leaders need to implement each day to create and maintain effective teams. After 21 days, the leaderís role is to sharpen the skills learned in those 3 weeks, so that not only the team becomes effective but also high-performing.
Wolff believes that leadership is a skill that can be learned by anyone who is motivated enough. Itís one of the reasons why he wrote this guide and was able to compress the action steps in just 21 days. And so he quotes Israelmore Avivor, ďContrary to popular opinion, leadership is not a reserved position for a particular group of people who were elected or appointed, ordained or enthroned. Leadership is self-made, self-retained, self-inculcated and then exposed through a faithful, sincere and exemplary life.Ē
†
Wolff says that it wonít be as simple as repeating the same thing every day. The book provides unique action steps for each day and that one is required to † know each of the team members, apply certain strategies, designate tasks, and coach low performers. In the process, one develops leadership skills and traits that can be applied in future teams.
†
In Learn to Lead , readers will also be given answers to questions like:
1.†††††† How can I take advantage of my team memberís varying personalities?
2.†††††† How do I develop a high-performance team?
3.†††††† What are the best practices of an effective team?
4.†††††† What should I do before my team and I disintegrate?
5.†††††† What are the traits and habits do I need to develop to become an effective leader?
6.†††††† Are there any creative ways that I can break my team closer together?
7.†††††† How do I motivate my team?
†
Being able to manage a team well in the first 21 days is great, but the real challenge comes when a team hits a plateau and loses sight of the goals. Wolff makes sure one is not left in the dark as he teaches how to maintain the new leadership style and strengthen teams through team building activities and effective training.
†
As an authority in business and having run a multi-state company of his own, Wolff understands what great impact a leader can have on his team. When just starting out, one might not have an idea yet of how behavior can affect teams. Learn to Lead enumerates the traits and habits that make a person a highly effective leader. Wolff also includes things to avoid as a leader such as being too friendly and not giving proper feedback. All these mistakes contribute to a teamís inability to perform and should be avoided at all costs.
†
Leadership can be a highly satisfying role. Wolff answers that this book gives leaders the chance to tap into each memberís potential and learn something from each one of them.
†
Donít forget to set the date because this book will be out for free this coming†14th†and†16th†of June this year at†Amazon.
†
Dominic Wolff is an author, business owner and traveller who became interested in the mechanics of business at a very young age. He now runs a multi-state company and constantly is on the lookout for systems that help improve his productivity. He frequently writes articles about personal productivity for business publications. He believes that having a structure in place for work and life can mean the difference between being in control and merely coping.
( Press Release Image: https://photos.webwire.com/prmedia/47564/188516/188516-1.jpg )
Related Links
WebWireID188516
Contact Information

Dominic Wolff
Author
ProductiveNow.org

This news content may be integrated into any legitimate news gathering and publishing effort. Linking is permitted.
News Release Distribution and Press Release Distribution Services Provided by WebWire.