5 Reasons Fans of Game of Thrones, Fifty Shades & More Need to See New Worlds
New Worlds has finally arrived on Channel 4 screens, and fans can pre-order their copy of the DVD right now at the Acorn online store.
United Kingdom –
WEBWIRE
–
Wednesday, April 16, 2014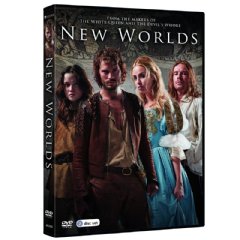 New Worlds DVD
New Worlds has finally arrived on Channel 4 screens, and fans can pre-order their copy of the DVD right now at the Acorn online store. But many TV fanatics out there might not yet know about this great new show, or its hot young cast.
Thatís why weíre counting down 5 Reasons That You Need to See New Worlds. Fans of Game of Thrones, Fifty Shades, The Fall and plenty more excellent shows might just want to take a look.
5 Reasons You Need to See New Worlds
1.†††††† Jamie Dornan
If you donít know the name, you really should and by Summer 2015 you definitely will. Thatís when Jamie Dornan will light up the silver screen as one and only Christian Grey.
Fifty Shades of Grey is coming to cinemas; and good or bad itís guaranteed to be a blockbuster smash. This will put the Irish actor, model and musician firmly on the A-List map, but heís already earned a stellar reputation for his acting; and a fervent female following besides.
Dornan wowed TV audiences as charming sociopathic serial killer Paul Spector in BBCís The Fall. Heís also broken America, playing Sheriff Graham on fantastical drama Once Upon a Time.
In New Worlds, he plays Abe Goffe, an idealistic renegade bent on ending the tyrannical rule of the Stuarts. A headstong patriot, Abe is often too quick to get into a scrap. But over the course of the show he will discover that there are better ways to fight than simply with your fists. Ever the romantic, Abe also struggles with his feelings for the beautiful but privileged Beth Fanshawe; which brings us to reason number two.
2.†††††† Freya Mavor
Fans of The White Queen will know Freya Mavor as Princess Elizabeth of York in the acclaimed adaptation of Phillippa Gregoryís bestselling novel about the War of the Roses. As Beth Fanshawe, the beautiful but sheltered heiress of the commonwealth, she completes her transition from the surly teenager seen in Skins, to a period-setting princess who transforms before our very eyes.
Beth Fanshaweís story is one of the most striking and unforgettable in the New Worlds series, as her encounters with Dornanís roguish outlaw open her eyes to the political chaos around her. Throughout the series audiences watch Bethís transformation from a pretty face to a powerful force for change; and thanks to Freya Mavor it is virtually impossible to look away.
Glasgow born actress Mavor is the daughter of a renowned playwright and her theatrical roots are clear. Mavor owns many of the most poignant scenes throughout the show, far cry from the juvenile antics of Mini McGuinness on Skins.
Fans of the screen adaptation of Sunshine on Leith will also know that Freya can bust out a tune or too. While she may not do a great deal of singing throughout New Worlds, there is still plenty of show-stopping to behold.
3.†††††† Joe Dempsie
Game of Thrones viewers will know Liverpudlian Joe Dempsie as Gendry, the skilled blacksmith and illegitimate son of the King who started life on the show as a bit part player before earning more screen time in Season 3.
In New Worlds, Dempsie takes centre stage as Ned Hawkins, the son of a wealthy landowner in a fledgling Massachusetts. Like all of the young leads in Channel 4ís fiery new show, Ned burns with the desire for change. Whilst being primed to take over his fatherís successful business, but the young man is not comfortable with his elderís immoral business sense.
Sent packing to England after committing an act of treason, Ned crosses paths with Abe and Beth and witnesses their revolutionary cause. He is played with aplomb by young Joe Dempsie. Joe is another Skin alum and was also seen in the critically acclaimed Southcliffe. Perhaps best known for his secondary turn in Thrones, the success of New Worlds could see this become his calling card rather than the HBO modern classic.
4.†††††† Alice Englert
Youngster Alice Englert plays Hope Russell, described in New Worlds press materials as the original young American. Ironically, Englert is actually from New Zealand and this hot new British production is just the latest entry in a meteoric rise to fame.
Englertís screen presence defies her young age and it is this star quality that earned her the lead role in Hollywood blockbuster Beautiful Creatures, which had been tipped to succeed Twilight as the number one young adult film series.
While the film lost out to Jennifer Lawrenceís Hunger Games at the box office, Englert is touted for bigger and better things.
She will soon appear in the television adaptation of Jonathan Strange & Mr Norrell but until then she sets screens alight as the idealistic and vengeful Hope.
Like the American dream, Hopeís philosophy is painfully simple: a world divided by right and wrong or good and bad. As the dream falter amid incessant bloodshed, Hope struggles with her own transition into adulthood, along with a struggle to find her place in the New World of the showís title.
5.†††††† The Devilís Whore
New Worlds is actually a sort-of sequel to the award winning and wildly popular period drama, The Devilís Whore. Like that show, it was created by screenwriter Peter Flannery and historian Martine Brant. Also like that show, it treats audience to a whirlwind of historical fact and exhilarating drama.
Itís romantic, violent and never less than thrilling to watch; and itís set to launch the careers of its four young stars into the stratosphere. Itís incredible to think just how far the stars of the Devilís Whore have come since their time on the show, with Michael Fassbender and Andrea Riseborough enjoying successful Hollywood careers in the years since.
Jamie Dornan is on that same trajectory and his co-stars in Channel Fourís newest must-see show are likely to join him.
Pre-order your copy of New Worlds on DVD today from the Acorn DVD online store. Your copy could even arrive before it officially hits shelves on 19 May. For more information, pay a visit to†http://www.acorndvd.com/new-worlds.html
( Press Release Image: https://photos.webwire.com/prmedia/34286/187045/187045-1.jpg )
Related Links
WebWireID187045
Contact Information

D Cobourne
SEO Executive
Hitsearch Limited

This news content may be integrated into any legitimate news gathering and publishing effort. Linking is permitted.
News Release Distribution and Press Release Distribution Services Provided by WebWire.