New Voice Book from the Series of "The Easy Voice Books" offering Exercises to Strengthen and Develop the Voice and Overcome Fear of Public Speaking.
A Course in Effective Communication with Presentational Skills to Build Confidence in your Personality, Passion and Power
Los Angeles, CA 91403 –
WEBWIRE
–
Saturday, February 15, 2014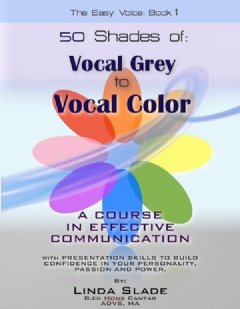 Free Download Kindle Book. Today!!!!!
Linda Slade writes with clarity and the exercises are illustrated with easy-to-understand photos using her students in a class format. T Breier
PRESS RELEASE
 
Fifty Shades from Vocal Grey To Vocal Color; Free Kindle Launch Today:
 
Ever wondered why that beautiful women has such a girly voice? Or why does that handsome muscular man sound like a mouse when he speaks? Ever wanted to speak publicly but freeze with fear at the moment of speaking? And why are you constantly having to throat clear?
This book addresses all these issues.
The title may be a little misleading but for those of us who are interested in the mysteries of the voice this is a great little book. And it is part of a series.
 
Linda Slade has written a series of books on the voice ranging from 'Fifty Shades from Vocal Grey To Vocal Color' to 'A Diamond Delivery' and 'Crystal Communication.' 
A professional voice user having spoken on the West End Stage in London, taught accents on movie sets, as well as spoken and coached at lectures and symposiums Ms. Slade demonstrates in her writing a mastery of knowledge.
 
Fifty Shades From Vocal Grey To Vocal Color: A Course In Effective Communication with Presentation Skills to build Confidence in your Personality, Passion and Power can be picked up this weekend free at Amazon.com
 
The first book in this series addresses issues such as understanding the difference between what Slade calls the "Authentic Voice' verses 'The Image Voice.'  She explores how the voice is often used as an unconscious mask much like the make up or the clothes we choose to wear. The Voice, she writes, can reflect how we want the world to see us. But, Slade suggests, there is a greater power in allowing the voice to come from our truth  and not the image we have created for ourselves and our public. Unfortunately, this 'authentic voice' writes Slade, while heard internally is not the voice that is heard when we speak. The Inner Voice is often stifled and locked away through fear and years of rejection. 
'The Easy Voice Books.' enable  the reader to work through a succession of exercises to support the release of the voice with all its confidence and vocal color.
Slade notes how many of us 'present a voice' to the public that does not represent who we are:- The women with the high pitched 'girly' voice, who never wanted to grow up into womanhood and maintains the girly voice for effect:- Or the strong powerful man who spends years working out at the gym but has never developed his vocal muscles.  What is going on here?
 
Slade offers suggestions and shares beautiful stories and insight into what is going on. She provides interesting solutions and numerous exercises while still maintaining that each of us is unique and what works for one may not work for another. Her approach is gentle and as you read the pages of this book you will find yourself reading a book by someone who really does want to make a difference in the world.
"Voice work is 'straight-forward'" Slade writes,  "and the earliest teachers knew what they were talking about. People such as Cicely Berry (who I have had the honor to study with) and Edith Skinner were true in their intentions to enable their students. Today there are so many approaches to the voice that the real focus of training the voice can often be lost in a glut of 'trendy' exercises.
 
Understanding the voice comes down to four or five basic subject areas: Relaxation and Posture, Breath and Vocal Support, The Placement of the Voice, Articulation and Pitch, Pace and Power. How you apply the voice after this basic training to Presentational Speaking, Performance and Singing etc is when the more advanced work steps in. I have tried to cover all these aspects as well as to consider why we often block our confidence to speak in public and offer exercises that may alleviate irrational fears many hold about speaking as themselves.
 
The Voice is a very revealing tool. Through the modulation and pitch of the voice so much can or cannot be revealed about a person. My intention is to enable my reader to connect to the voice that truly reflects who they are and not to the voice that has become their 'identity.' I believe that when we are called to sell an idea or product it is much more important to come across as a genuine authentic person rather than to come across as a 'professional sales person' with a 'professional' salesperson voice!!!! Who would you trust most?"
You may find yourself 'tied up' in this book after all as it makes for a great read.

This book is a must for anyone who uses their voice on a daily basis; whether an actor, politician, teacher or sales person protecting the voice is of the utmost importance and author Linda Slade's series of 'Easy Voice Books' address many of the issues concerning the voice.
If you are someone who wants greater authenticty in your life this is the book for you.
 
Find out more about the author Linda Slade at www..authenticvoice.vpweb.com
Or contact Linda at Linda@authenticvoice.vpweb.com
 
To download your free book go to:-
 
http://www.amazon.com/s/ref=nb_sb_noss?url=search-alias%3Daps&field-keywords=fifty+shades+from+vocal+grey+to+vocal+colorAmazon.com
 
( Press Release Image: https://photos.webwire.com/prmedia/47720/185386/185386-1.jpg )
WebWireID185386
Contact Information

Linda Slade
Author
323 653 7073/Levin Agency

This news content may be integrated into any legitimate news gathering and publishing effort. Linking is permitted.
News Release Distribution and Press Release Distribution Services Provided by WebWire.