World's Top Luxury & Premium Brands Lose Over $7 Billion in Brand Value
- Total value of world's top 50 most valuable luxury and premium brands down 3%, from US$227.1 billion in 2020 to US$219.5 billion in 2021

- Porsche retains top spot, brand value US$34.3 billion

- Apparel brands dominate ranking, with 30 brands featuring and accounting for 62% of total brand value, but brand values suffer due to COVID-19

- Celine bucks trend and is fastest growing brand, up impressive 118%

- Two hotels check into ranking for first time: Shangri-La in 29th and Interco
WEBWIRE
–
Tuesday, September 14, 2021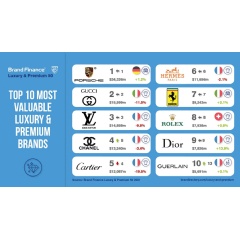 View the full Brand Finance Luxury & Premium 50 2021 report here
Top 50 loses over $7 billion in brand value
The total value of the world's top 50 most valuable luxury and premium brands, according to the Brand Finance Luxury & Premium 50 2021 report, has declined by 3% year-on-year, from US$227.1 billion in 2020 to US$219.5 billion in 2021 as the world grapples with the fallout from the COVID-19 pandemic.
Alex Haigh, Valuation Director, Brand Finance, commented:
"As predicted, the COVID-19 pandemic has damaged brand values across the luxury & premium sector with the total brand value of the world's top 50 most valuable down 3% year-on-year. It is not all doom and gloom though, the pandemic can be used as a catalyst for change across the sector, through growing e-commerce channels or through brands' responses to the increased consumer demand for social and sustainable action."
Porsche in pole position
Germany's Porsche is by far the most valuable luxury & premium brand with a brand value of US$34.3 billion, considerably ahead of second-ranked GUCCI (brand value down 12% to US$15.6 billion).
Synonymous with timeless class and luxury, Porsche is striving towards pushing the boundaries and redefining the future of the sportscar. As part of the brand's 'Strategy 2025', the auto giant aims to maintain the traditional aspects that the brand is known for, as well as undertaking the shift towards sustainability through the launch of the Taycan. Porsche celebrated strong sales of the Taycan, which totalled over 20,000 units sold last year, despite a six week pause in production due to the pandemic. This impressive result means that over 10% of Porsche's sales are now from its EV models.
Apparel brands dominate ranking but struggle amid pandemic 
Apparel brands dominate the Brand Finance Luxury & Premium 50 2021 ranking, with the 30 brands that feature accounting for 62% of the total brand value. Performances across the board have been impacted by the pandemic, however, with the majority of brands recording a brand value loss this year.
Coach has recorded the biggest drop in brand value this year in the apparel subsector, falling 31% to US$4.7 billion. Coach's sales and profits have taken a hit over the previous year. Coach's parent company, Tapestry, has however cited that forecasts across its brands are looking more positive than anticipated thanks to triple digit e-commerce growth and a strong rebound across the Chinese market. Coach has continued to embrace its strategy of celebrity-endorsed partnerships and collections, the latest of which, saw the appointment of superstar Jennifer Lopez as the global face of the brand.
Bucking the trend is France's Celine, which is the fastest growing luxury and premium brand this year, recording an impressive 118% brand value increase to US$1.5 billion and simultaneously jumping 13 spots to 34th. Under the helm of Hedi Slimane, Celine has successfully managed to infiltrate the burgeoning Gen Z generation across the Asian market as it rises in popularity thanks to dressing popular K-drama characters in its garments.
Hotels check into ranking for first time
For the first time the Brand Finance Luxury & Premium ranking includes two hotel brands: Shangri-La (brand value US$2.0 billion) in 29th spot and Intercontinental (brand value US$1.5 billion) in 35th. As holidays are cancelled and people are instructed to work from home, the hospitality sector has reached an almost complete standstill both from tourism, as well as corporate travel and hotel brand values have suffered as a result. 
Home to five-star luxury properties with elite postcodes and addresses across the Middle East, Asia, North America, and Europe, Shangri-La is the highest ranked hotel brand in 29th position. Despite challenges, the hotel recorded an encouraging recovery across mainland China over the last year with demand being supported by an uptick in domestic leisure travel.
Ferrari speeds ahead as sector's strongest
In addition to measuring overall brand value, Brand Finance also evaluates the relative strength of brands, based on factors such as marketing investment, customer familiarity, staff satisfaction, and corporate reputation. According to these criteria, Ferrari (up 2% to US$9.2 billion) is the world's strongest luxury & premium brand – and the second strongest brand in the world according to the Brand Finance Global 500 2021 ranking - with a Brand Strength Index (BSI) score of 93.9 out of 100 and a corresponding elite AAA+ brand strength rating.
Ferrari reacted proactively to the pandemic, initially shutting down production and then reopening with a focus on creating a safe working environment. This both minimised disruption and reinforced the brand's reputation as a high-quality and responsible firm. In line with this, Ferrari ranks high for reputation in our Global Brand Equity Monitor study, particularly in Western Europe (in the top 3 of all brands researched in each of France, Italy, and the UK). Ferrari remains a highly desired brand, albeit aspirational rather than accessible for many.
Alongside revenue forecasts, brand strength is a crucial driver of brand value. As Ferrari's brand strength maintained its rating, its brand value grew, improving 2% to US$9.2 billion. For years, Ferrari has utilised merchandise to support brand awareness and diversify revenue streams and is now taking steps to preserve the exclusivity of the brand, planning to reduce current licensing agreements by 50% and eliminate 30% of product categories.
Sitting behind Ferrari as the second strongest luxury & premium brand is Rolex (up 1% to US$7.9 billion) with a Brand Strength Index (BSI) score of 89.6 out of 100 and a AAA+ brand strength rating. Rolex is renowned for its world-leading quality and exclusivity, with the brand's new releases known for setting the standard across the watch sector. Despite the challenges of the last year, the market for luxury watches has shown remarkable resilience to the pandemic turmoil, with demand remaining stable, demonstrated by Rolex's website traffic experiencing a surge over the previous year.
View the full Brand Finance Luxury & Premium 50 2021 report here
Note to Editors
Definition of Luxury
Luxury products and services are often difficult to define as the threshold separating luxury or premium from other conventional products is subjective. Therefore, we have decided to explain as clearly as possible what Brand Finance means when speaking of the "luxury and premium" sector for the purpose of this report. We define luxury brands as: brands that are well known for high quality but are not widely considered or purchased due to price. This often manifests itself in high brand awareness and a strong reputation for quality but low purchase relevance and conversion – as most consumers do not consider the brands within their reach due to price. We measure these metrics for all brands included in our Global Brand Equity Monitor and use them to directly to feed into the brand strength score, ensuring consistency and transparency.
For instance, in the apparel sector, both Uniqlo and Chanel are well-known and highly regarded for their quality, but Chanel's purchase relevance (measured by the number of respondents who would consider the brand divided by those who are familiar with it) is much lower due to the price of the brand's products. A similar pattern is found for Nivea and Guerlain within cosmetics or Porsche and Volvo in automobiles.
Additional information
Every year, Brand Finance puts 5,000 of the biggest brands to the test, evaluating their strength and quantifying their value, and publishes nearly 100 reports, ranking brands across all sectors and countries. The world's top 50 most valuable luxury & premium brands are included in the Brand Finance Luxury & Premium 50 2021 report.  
The full Brand Finance Luxury & Premium 50 2021 ranking, additional insights, charts, more information about the methodology, as well as definitions of key terms are available in the Brand Finance Luxury & Premium 50 2021 report.  
Brand value is understood as the net economic benefit that a brand owner would achieve by licensing the brand in the open market. Brand strength is the efficacy of a brand's performance on intangible measures relative to its competitors. Please see below for a full explanation of our methodology.
About Brand Finance          
Brand Finance is the world's leading brand valuation consultancy. Bridging the gap between marketing and finance, Brand Finance evaluates the strength of brands and quantifies their financial value to help organisations of all kinds make strategic decisions.
Headquartered in London, Brand Finance has offices in over 20 countries, offering services on all continents. Every year, Brand Finance conducts more than 5,000 brand valuations, supported by original market research, and publishes nearly 100 reports which rank brands across all sectors and countries.
Brand Finance is a regulated accountancy firm, leading the standardisation of the brand valuation industry. Brand Finance was the first to be certified by independent auditors as compliant with both ISO 10668 and ISO 20671, and has received the official endorsement of the Marketing Accountability Standards Board (MASB) in the United States.
Methodology
Definition of Brand
Brand is defined as a marketing-related intangible asset including, but not limited to, names, terms, signs, symbols, logos, and designs, intended to identify goods, services, or entities, creating distinctive images and associations in the minds of stakeholders, thereby generating economic benefits.
Brand Value
Brand value refers to the present value of earnings specifically related to brand reputation. Organisations own and control these earnings by owning trademark rights.
All brand valuation methodologies are essentially trying to identify this, although the approach and assumptions differ. As a result, published brand values can be different.
These differences are similar to the way equity analysts provide business valuations that are different to one another. The only way you find out the "real" value is by looking at what people really pay.
As a result, Brand Finance always incorporates a review of what users of brands actually pay for the use of brands in the form of brand royalty agreements, which are found in more or less every sector in the world.
This is known as the "Royalty Relief" methodology and is by far the most widely used approach for brand valuations since it is grounded in reality.
It is the basis for our public rankings but we always augment it with a real understanding of people's perceptions and their effects on demand – from our database of market research on over 3000 brands in over 30 markets.
Brand Valuation Methodology
For our rankings, Brand Finance uses the simplest method possible to help readers understand, gain trust in, and actively use brand valuations.
Brand Finance calculates the values of brands in its rankings using the Royalty Relief approach – a brand valuation method compliant with the industry standards set in ISO 10668.
Our Brand Strength Index assessment, a balanced scorecard of brand-related measures, is also compliant with international standards (ISO 20671) and operates as a predictive tool of future brand value changes and a control panel to help business improving marketing.
We do this in the following four steps:
1. Brand Impact
We review what brands already pay in royalty agreements. This is augmented by an analysis of how brands impact profitability in the sector versus generic brands.
This results in a range of possible royalties that could be charged in the sector for brands (for example a range of 0% to 2% of revenue).
2. Brand Strength
We adjust the rate higher or lower for brands by analysing Brand Strength. We analyse brand strength by looking at three core pillars: "Investment" which are activities supporting the future strength of the brand; "Equity" which are real perceptions sourced from our original market research and other data partners; "Performance" which are brand-related measures of business results, such as market share.
Each brand is assigned a Brand Strength Index (BSI) score out of 100, which feeds into the brand value calculation. Based on the score, each brand is assigned a corresponding Brand Rating up to AAA+, in a format similar to a credit rating.
3. Brand Impact x Brand Strength
The BSI score is applied to the royalty range to arrive at a royalty rate. For example, if the royalty range in a sector is 0-5% and a brand has a BSI score of 80 out of 100, then an appropriate royalty rate for the use of this brand in the given sector will be 4%.
4. Brand Value Calculation
We determine brand-specific revenues as a proportion of parent company revenues attributable to the brand in question and forecast those revenues by analysing historic revenues, equity analyst forecasts, and economic growth rates.
We then apply the royalty rate to the forecast revenues to derive brand revenues and apply the relevant valuation assumptions to arrive at a discounted, post-tax present value which equals the brand value.
Disclaimer
Brand Finance has produced this study with an independent and unbiased analysis. The values derived and opinions presented in this study are based on publicly available information and certain assumptions that Brand Finance used where such data was deficient or unclear. Brand Finance accepts no responsibility and will not be liable in the event that the publicly available information relied upon is subsequently found to be inaccurate. The opinions and financial analysis expressed in the study are not to be construed as providing investment or business advice. Brand Finance does not intend the study to be relied upon for any reason and excludes all liability to any body, government, or organisation.
The data presented in this study form part of Brand Finance's proprietary database, are provided for the benefit of the media, and are not to be used in part or in full for any commercial or technical purpose without written permission from Brand Finance.
( Press Release Image: https://photos.webwire.com/prmedia/8/279039/279039-1.jpg )
Related Links
WebWireID279039

This news content was configured by WebWire editorial staff. Linking is permitted.
News Release Distribution and Press Release Distribution Services Provided by WebWire.